Making PowerPoint slides and navigating them
The following article is a transcript from a our video product, "Intro to Powerpoint XP."


Now that we've chosen a template and saved our presentation, let's add some slides. But how do we do it? There's actually three ways, and over time you'll start to favor one of them:
Go to the file menu, click [Insert - New Slide] (for the logical mind)
Go to top toolbar, find the "new slide" button (for the visual mind)
Type the keyboard shortcut [Control + M] (for the robotic personality)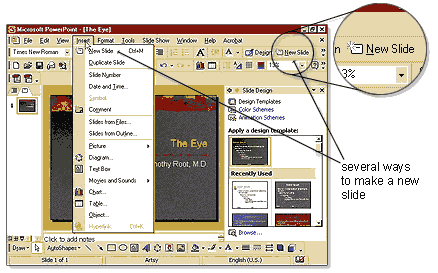 When you add a new slide, PowerPoint wants to know what "slide layout" you prefer. Slides have different layouts, or arrangement of text and objects … i.e. a title slide looks different than a "normal" slide.
You can pick and change these layouts by going to the "apply slide layout" pane in the task pane. There are a lot of slide formats we can choose from, such as ...

Title Slide -- text is placed in the middle of slide
Text Slide -- slide title is on top, with information text underneath
Blank Slide -- an uncluttered slide that you can insert anything you want (commonly used with pictures).
Preformatted slide -- layouts that already have a place for other content, such as pictures, graphs, and videos.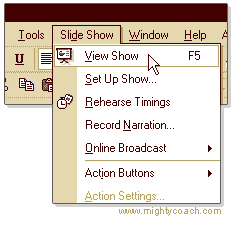 After we've picked a slide type and added some text, let's preview our presentation full screen. To preview, go to the menu-bar and pick [Slide Show - View Show]. The keyboard shortcut for this is [F5]. Because you'll be previewing your slides often, you may want to remember this [F5] shortcut!
While viewing your show full-screen, you can navigate slide-to-slide by clicking the left and right arrow keys. When you are done previewing and wish to return to the normal view, simply click on the [escape] key.

Next: Working in Outline View ...
Or: See all our PowerPoint tutorials!
---
| | |
| --- | --- |
| | |
| | Go right ahead! You can even copy and use the pictures. We only ask that you include the following sentence (and link) at the bottom of the article: |
You can find more useful PowerPoint tips-and-tricks like this one at www.mightycoach.com - they even have an online-video course that teaches you to use PowerPoint in only a few hours!