Inserting ClipArt Onto Slides
The following article is a transcript from a our video product, "Intro to Powerpoint XP."


Powerpoint XP comes pre-packaged with a number of graphics, or "clipart" images that you can use in your presentation. These clipart images can be placed directly onto slides exactly the same way that photographs can.

To insert a clip-art graphic onto your slide, go to the file-menu and click [Insert - Picture - Clipart]. The first time you try this, the "clip organizer" will take over, and attempt to scan through your entire computer for all possible clip art pictures. Any picture on your computer is fair game, and it will take the clip organizer quite a while (more than 10 minutes) to make this initial survey. Don't worry, though ... as this search is never repeated again.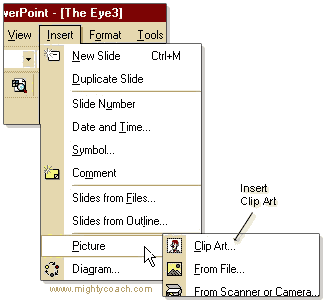 After this initial setup, inserting clipart is easy. Once again, click [Insert - Picture - Clipart]. When you do this, the clip-art selection options will appear in your right Task Pane. You now have two separate methods for finding a suitable piece of clipart: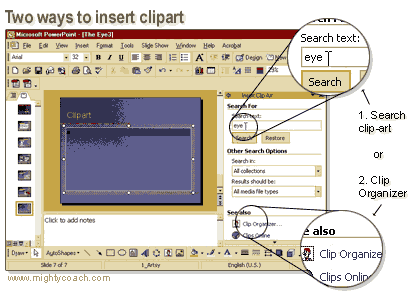 1. You can run a search.
When you run a search on a name, such as "eye," PowerPoint searches through its entire database of clipart pictures for images with the word "eye" in it. This search includes all the clipart bundled with powerpoint, and also every photograph and picture on your hard drive that has "eye" in its filename. You will then see a thumbnail of every possible eye picture on your computer, and you can insert any of these "clipart images" onto your slide by clicking on its thumbnail.
2. You can run the clip organizer.
This is how previous versions of powerpoint dealt with clipart, and I think it is still the easiest. This latest version of PowerPoint XP handles clipart slightly differently than older versions. I believe this is one area that Microsoft dropped the ball, as the new Clipart Organizer is a little more complicated than it needs to be. Still, it's not terribly hard ...
When you run the clip organizer, you get a file-directory of all available clipart. Go to the folder "Office Collections" and search through these file categories of pictures until you find one that you want. The "office collections" are the actual clipart pictures that came bundled with Office, and are divided into useful categories, such as Animals or Healthcare.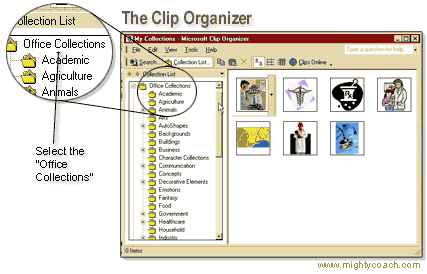 After you find an clip-art image and place it on your slide, you can manipulate, rotate, and resize it just like you would any other photograph or picture.
Next: Changing our images look and properties ...
Or: See all our PowerPoint tutorials!
---
| | |
| --- | --- |
| | |
| | Go right ahead! You can even copy and use the pictures. We only ask that you include the following sentence (and link) at the bottom of the article: |
You can find more useful PowerPoint tips-and-tricks like this one at www.mightycoach.com - they even have an online-video course that teaches you to use PowerPoint in only a few hours!