Show options and "doodling" onscreen
The following article is a transcript from a our video product, "Intro to Powerpoint XP."


For most presentations, all you need to do to view your show is hit [F5] or go to the menu bar and click [Slide Show – ViewShow]. Your show will then run full-screen and you can navigate slide-to-slide with the arrow keys.

However, there are a couple of fun show options you might want to experiment with. If you go up to the file menu and click [Slide Show – Set up Show] you'll discover a slew of show options you can change. Most of these options can be ignored because they deal with kiosk-type presentations (unmanned presentations with a pre-recorded voice track).

One option that you may find interesting is the "pen color". You can choose a pen color, and during your presentation you can actually draw on the screen with your mouse.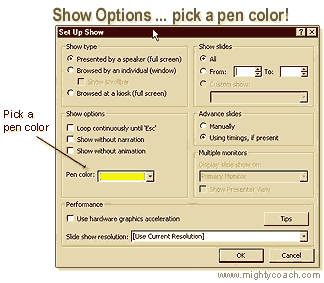 Let's try it. View your show full-screen by clicking [F5]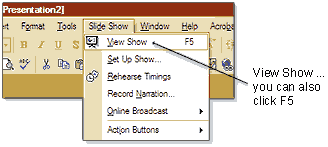 To turn on the Pen feature, click [Control + P]. You can then draw directly on the slide. You'll need really good hand-eye control to draw with a mouse, though.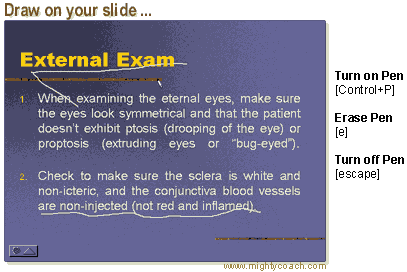 You can erase your drawing by typing the letter [E]. To get out of pen mode, hit the [esc] button. Be sure to hit [escape] only once, because if you hit it twice, you'll be dumped completely out of your show and back into the slide-editing mode.
This pen feature is a fun trick, but I don't use it often, because my laser-pointer is more useful.
Next: Printing Notes and handouts ...
Or: See all our PowerPoint tutorials!
---
| | |
| --- | --- |
| | |
| | Go right ahead! You can even copy and use the pictures. We only ask that you include the following sentence (and link) at the bottom of the article: |
You can find more useful PowerPoint tips-and-tricks like this one at www.mightycoach.com - they even have an online-video course that teaches you to use PowerPoint in only a few hours!